About evolve Federal Credit Union
Our story began in El Paso, TX when El Paso Employees Federal Credit Union opened its doors to the public for the first time in 1936. After serving the area for 75 years, the credit union decided to recreate its name and take on a more progressive approach towards modern-style banking. In 2012, El Paso Employees Federal Credit Union became evolve Federal Credit Union. We are a full-service credit union for anyone who lives, works, or worships in El Paso, Texas and Dona Ana County, New Mexico. With branches conveniently located throughout the El Paso area, a full range of digital solutions, we provide all of our members with a simple, easy, and fast way to bank. evolve FCU also represents the home to the only Patronage Dividend in El Paso!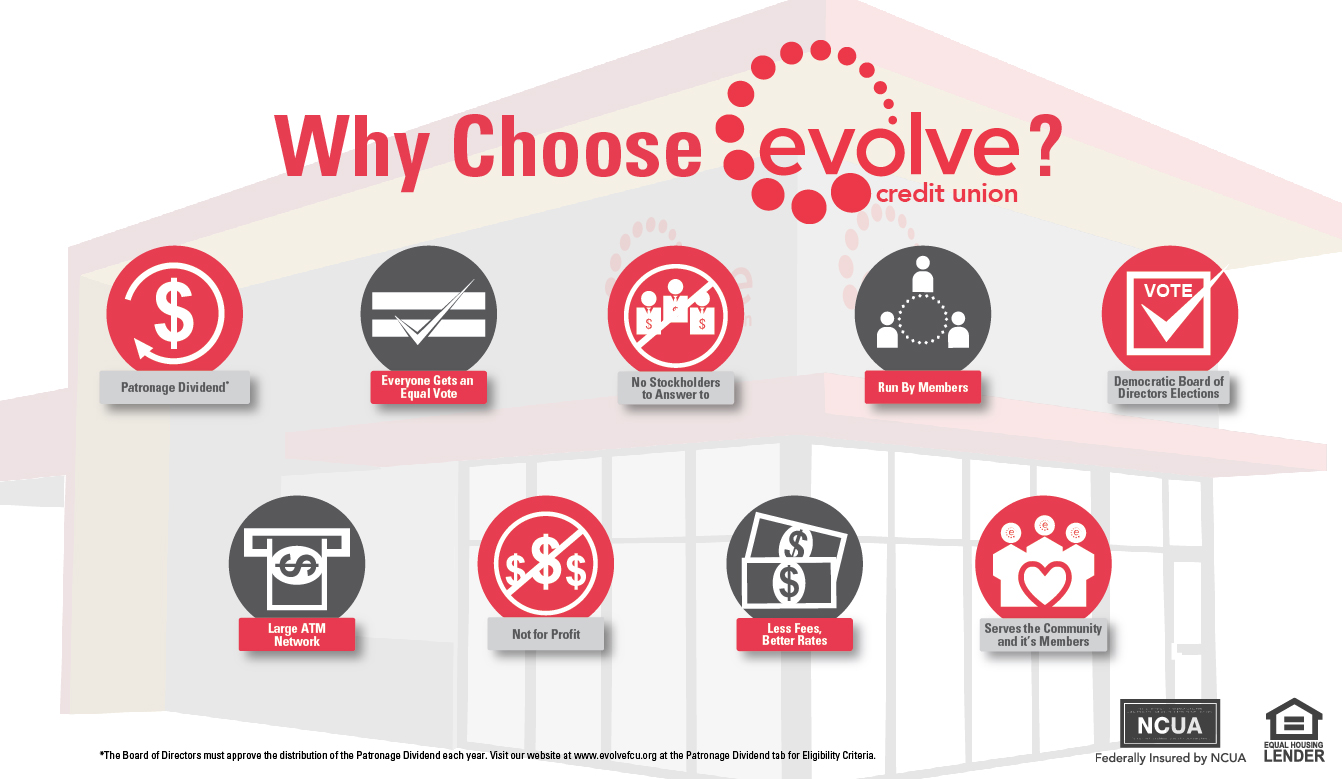 evolve With Us:
It is in our nature to evolve and thrive on innovation, compassion, and dedication! Our branches are designed to offer our members a friendly and memorable experience. We are proud to offer our members a wide array of services to keep them financially safe and secure at any time, from anywhere, through all electronic devices. It is essential to us that our members fully understand all of the benefits that come along with being a part of our credit union. Our evolve WhatsUp blog page provides you with the most current information regarding our online services and products, including educational blog articles, videos, and infographics. 
As a community organization, evolve FCU is dedicated to giving back through its Social Purpose initiative and devoted to brightening the future of the kids in our community. 

Our mission is to build member loyalty through service, trust, and value. Our vision is to become your financial institution of choice. We invite all who live, work, worship, or attend school in El Paso County, Texas and Dona Ana County, New Mexico to take advantage of the services we offer!
Our Services Include:
Medical Professional Mortgage Loans
Open an Account Today!
You can establish membership online or over the phone during business hours. All you need is:
Valid Driver's License or State ID
Social Security Number (SSN)
$15 to open a share account (savings account) and become a member
Need an answer? Check out our user friendly FAQ search bar! Can't find what you're looking for? Please contact us by phone at (915) 593-5866 or toll free at 1-888-373-3281, or through email at info@evolvefcu.org for more information about our convenient options.