A Mortgage Product Designed With You In Mind.
The path to becoming a medical professional can take years of hard work and financial sacrifice. At evolve Federal Credit Union, we recognize your unique financial circumstances and want to support you by making the home buying process easy and affordable. That is why we are proud to introduce a mortgage program created especially for you, our medical professional community!
Eligible Medical Professionals*
Any person in the medical profession that has at least a two-year certification to obtain their position.
PROGRAM PARAMETERS
Medical Professionals Mortgage Loans: $60,000 - $750,000
Term: 10, 15, 20, or 30 year-terms.
LTV: Up to 97%. No PMI.
Rate: Current conforming rate for term. Additional 0.50% added for Jumbo Loans.
Minimum Credit Score: Middle credit score of at least 700 for medical professional. Spouse can have lower scores if income for repayment is from medical professional.
Escrows: Required on all loans.

Medical Credentials:
Available to Residents, Fellowship, Newly Established or Established Physicians
Length of Employment:
Standard two-year employment history will be waived if certification in field is provided along with a current offer letter of employment within their field.
First Mortgage loans with maturities up to 30 years made for the purpose of purchasing or no cash-out refinancing of an owner-occupied primary residence.
Second and Investment homes are not eligible under this program.
What is PMI Insurance?
Private Mortgage Insurance, or PMI, is a type of insurance you are required to pay if your down payment is less than 20% of the home's purchase price with a conventional loan. PMI is an insurance policy paid by you, the borrower, however it is in place to protect the lender should you default on your loan.
How Long Will You Pay for PMI Insurance?
• When your loan balance is scheduled to reach 78 percent of the original value of your home. It is automatically terminated by the lender.
• Canceled at your request because your equity in the home reaches 20 percent of the purchase price or appraised value. An appraisal, paid by the borrower, is required along with a written request for termination.
• You reach the mid-point of the amortization period. A 30-year loan for example, would reach the midpoint after 15 years.
How Much Does It Cost?
No PMI can save you $125.00 per month on a $250,000 loan with a PMI rate of .60%. That is a $1,500/ year savings. Based on a 700+ credit score.
What is MIP?
Mortgage Insurance Premium, or MIP, is an insurance policy required by for FHA home loans, regardless of the down payment amount. The upfront premium is 1.75% of the loan amount , and the annual premium ranges from .45% to 1.05% of the average outstanding balance of the loan for that year.
How long will you pay for MIP insurance?
FHA loans with MIP (Mortgage Insurance Premium) that originated before June, 2013, mortgage insurance cancels when the loan to value gets to 78% and 5 years have passed since the loan was created. FHA loans taken out after this date will pay mortgage insurance for as long as the loan is in place. MIP stays on for the life of the loan. Only with refinancing the loan to an 80% or less loan to value is this removed.

How much does it cost?
No MIP can save you $177.08 per month on a $250,000 loan with an MIP rate of .85%. That is a $2,125/ year savings.
MIP and PMI are not to be confused with homeowner's insurance, which protects the property.
---
To learn more about this mortgage product and take advantage of its exclusive benefits, contact Stephanie Mendoza at 915.599.6820. NMLS #2075289.
Have questions? Let us know here and we will contact you shortly.
---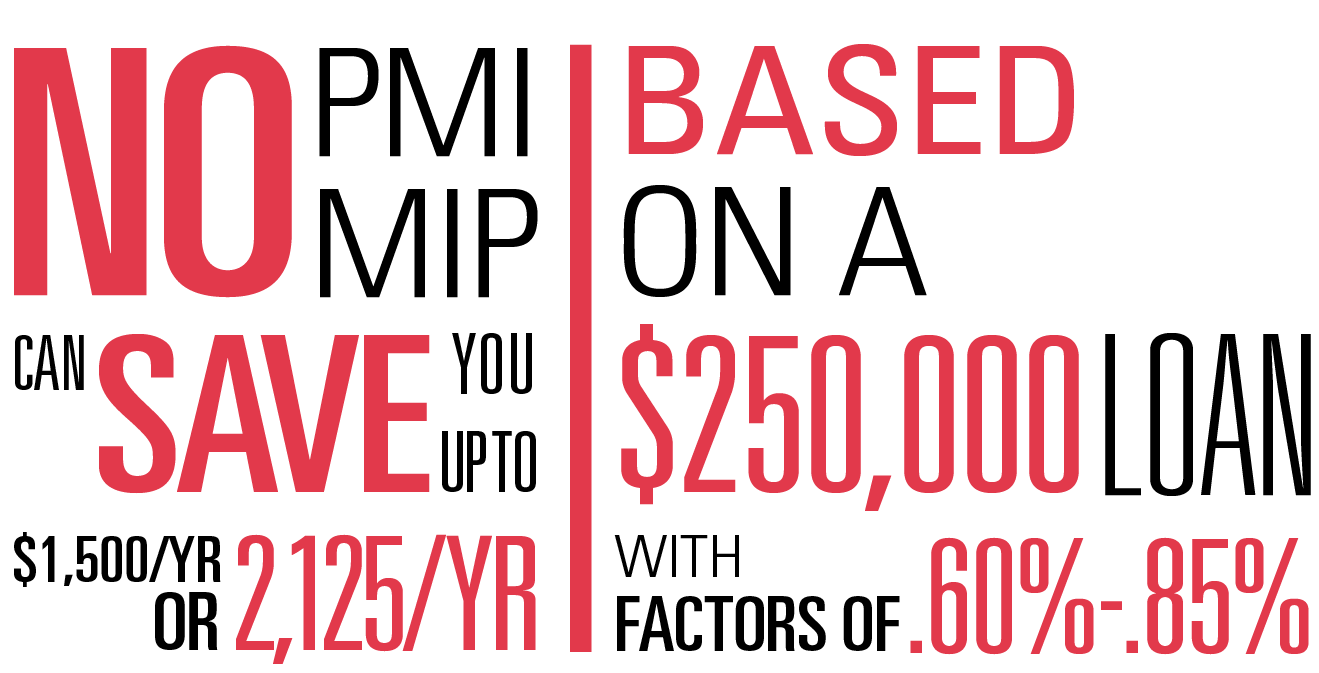 ---
**APR is Annual Percentage Rate. All loans subject to credit approval. Rates based on credit history and underwriting factors. Program, rates, terms and conditions are subject to change without notice. Certain restrictions may apply. evolve FCU NMLS # 250889