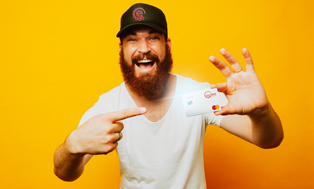 Blog Article: April 28, 2022
Credit card debt does not have to be intimidating or consuming in your everyday life. It takes proper planning and discipline to find a groove that will keep your debt amount on a steady decline. The good news is that solutions are available to help you recover from those unexpected or seasonal charges you have accumulated.
You may think getting a credit card to pay off another is counterintuitive, but if you choose the right one, you will see that it is a beneficial move for multiple reasons. So let's dig deeper as to why that is.
Consolidate Your Debt with a Credit Card Balance Transfer
Consolidating your debt is a simple way to keep your balances together and manageable. Credit card balance transfers allow you the flexibility to pay off your loans within a designated time frame while saving on interest payments.
evolve FCU offers 0% APR* for 12 months on balance transfers made within the first three months of opening a Classic Credit Card. Within those ninety days, you will need to transfer any outstanding credit card balances to your new Classic card to ensure that you take advantage of the offer. Plan accordingly and calculate your payments to help you pay off that debt in 12 months to avoid getting charged any interest. Your balance transfer will come with a 1% balance transfer fee for each balance transfer requested, which is relatively low compared to the 3% average, according to NerdWallet. After the 12 months, well-qualified cardholders will have a fixed APR* rate as low as 9.25%*. With the Classic card you will not have to worry about annual fees.
Revolving Credit is evolving Credit.
Routinely paying with cash may have a nice ring to it but gone are the days when that was the only option available. There are payment options to accommodate all types of individual personal needs in today's world. Credit cards have become more than just a payment resort, but rather, they have become one's payment ecosystem. Think of it this way; you can use your evolve Classic Card for debt consolidation to save money on monthly interest payments or opt for an evolve Rewards Credit Card to earn 1% cashback on daily purchases, like gas or groceries. You can pay your monthly balance at the end of each month and begin the process once again. This is a healthy cycle that can maintain your credit utilization rate below 30%, help improve your credit score and maximize your credit card. evolve FCU is here to help you on your journey to being debt-free!
If it is rewards you are after, the evolve Rewards Credit Card offers:
Fixed APR* rate as low as 12.99%* for well qualified applicants
Special 12-month introductory rate of 6.99%*-11.99%* on purchases made within the first 6 months
Earn 1% cash back* on all purchase transactions
No annual fee.
 Applying for the Classic Credit Card or Rewards Credit Card is easy and can be done straight from your mobile app and home banking. If you feel you would like additional information about our credit cards, please contact our eBanking Center at 915.995.1620 and one of our eBankers will be happy to assist you!
Reference: https://www.nerdwallet.com/article/credit-cards/best-no-balance-transfer-fee-credit-cards
* APR is Annual Percentage Rate. All credit cards subject to credit approval. Rates based on credit history and underwriting factors. Restrictions and limitations may apply for each. Refer to the Application and Solicitation Disclosure. The Consumer Credit Card Agreement and Disclosure together with the Credit Card Account Opening Disclosure of the selected card govern the terms, conditions, and fees associated to the specific card. There is a balance transfer fee of 1% for each balance transfer requested.